Not many would have expected a 0-5 thrashing by Man City of West Brom with a gorgeous opening by Ilkay Gündogan and later striking once more against the struggling side. Man City has been not been in form this season, I hope the shock of reading that sentence makes you stay tuned till the end. Well jesting aside their reign at the top of the table has not been surprising with a powerful squad on their side and players like Gündogan to support.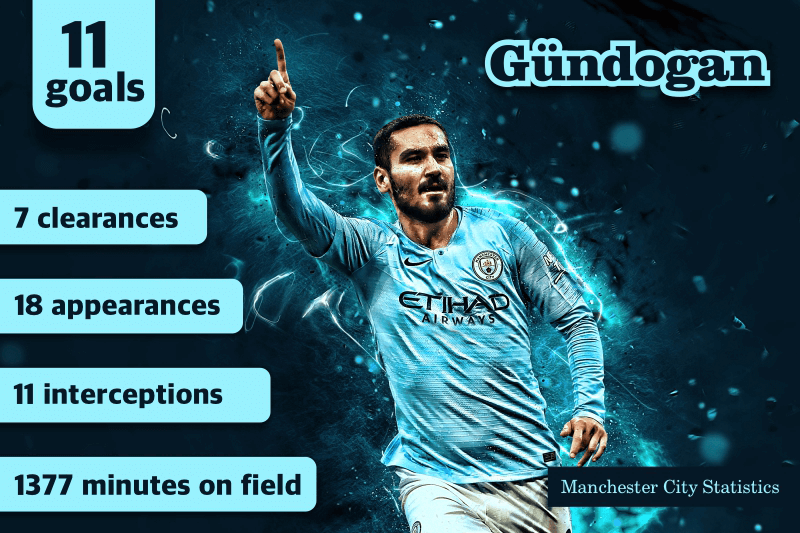 The German Midfielder moved from Dortmund to City's squad in 2016 and has not looked back since, on matchday he took 2 shots against West Brom both on target and both converted successfully in just 52 minutes of playtime he completed 32 passes with one tackle and one interception all this was his one-day work. So far in the season, he has been phenomenal with City who has clawed its way to the top from 12th position this season and has scored 11 goals and one assist in 18 appearances in 1377 minutes on field. He has created three big chances this season while attempting to block a scoring attempt 10 times to play his role as a midfielder. With a total of 11 interceptions, he has 7 clearances as well to keep conceded goals to a minimum.
We see a tremendous improvement in his form a player who had scored a maximum of 6 goals for City in the past three seasons is now at 11 and half of the season is yet to be played his blocked scoring attempt on the other hand has remained consistent with an average of 0.45 across the three seasons and has grown in an attacking role this season. His accuracy has seen a great boost this season, in the previous three seasons combined average of his shots on target hovered around .30 so far in the 2020-21 season his accuracy is .83 while his total shots have increased as well from 1.17 per game in 2017-2018 to 2 per game in the current season. No wonder City is dominating this season!!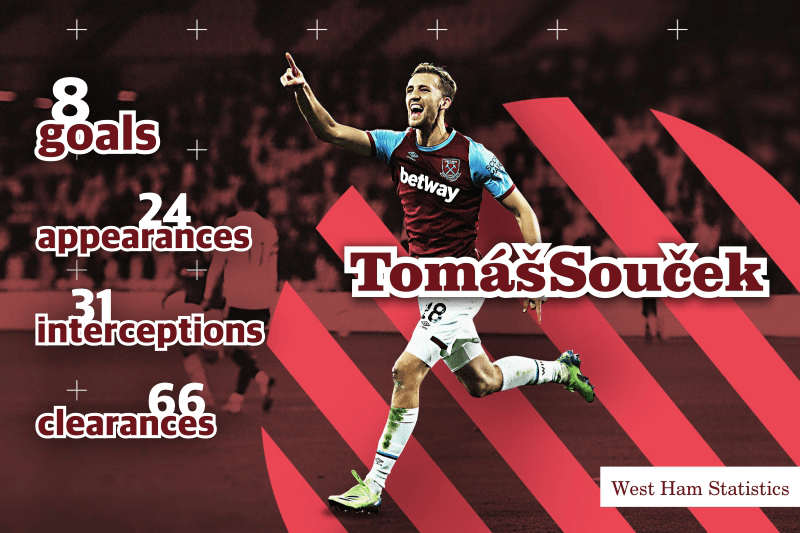 Tomáš Souček of West Ham also caught our eye this week scoring twice against Crystal Palace in a matter of 16 minutes to lead West Ham to a 3-2 win over Palace despite a strong opening by Wilfried Zaha. Souček took a total of 4 shots during the match and converted two of them winning three tackles along the way and three interceptions against the opposite team. The Defender also blocked one scoring attempt in 90 minutes of playtime. Joining West Ham on a loan deal in the middle of the season in January of last year impressed them with his performance enough that West ham signed him on a four-year-deal for €21 million.
Making 24 appearances this season as against 13 in 2019/20 he has scored 8 goals so far as opposed to three last year. The most impressive of his numbers were 22 interception and 33 total clearances in the previous season while in this season he has almost doubled the number with 31 interceptions and 66 total clearance as the Defensive midfielder has held the other team back so West Ham can have a shot at the Champions League spot this season.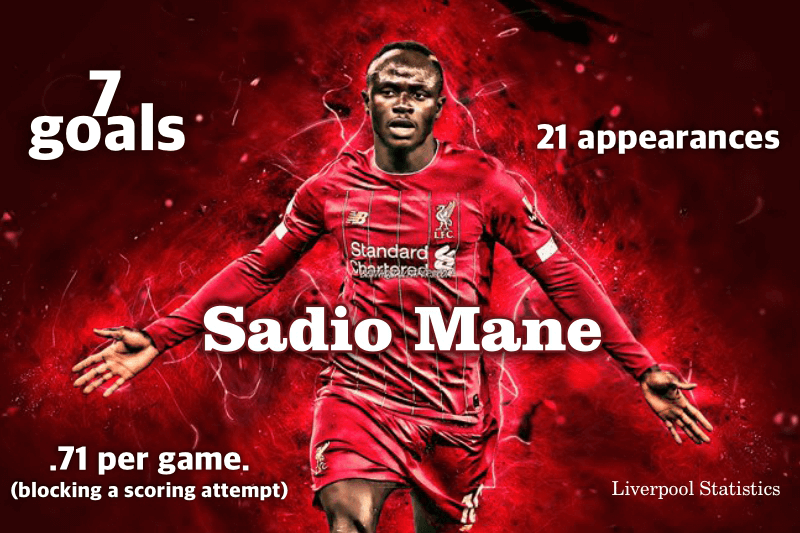 Liverpool's #10 Sadio Mane has been a regular in Reds Squad ever since he switched from Southampton to Liverpool in 2016 and the Attacker was at the forefront of Liverpool's 3-1 win over Spurs where Liverpool lead the possession with 51% and he attempted the most shot for the night was 7 with 4 of them on target, his assists at the start also helped Roberto Firmino net as well in stoppage time creating one big chance along the way with 4 interceptions in 90 minutes playtime.
His form this season though seems to on the decline with just 7 goals and 3 assists this season in 21 appearances whereas his club high was 22 goals in 2018/19 season in 36 appearances but he has developed in other areas while his blocking a scoring attempt remained consistent in the past three seasons at .31 per game, this season the number has doubled at .71 per game with more attempts being taken as well which was an average of 2.4 per game in the last three season it is at 3 per game this season. But still, Liverpool is staring at the wrong side of the table after winning the last season in a dominating fashion.
Lastly, captain of Manchester United Harry Maguire, faced his former team Sheffield United and was beaten by the bottom ranking team by 2-1 even after Maguire's header found the net from Red Devil's end, taking a total of two shots with just one on target. Manchester United led the possession with 76% but still slumped to a defeat at the hands of Sheffield who found the second win of the season against Red Devils.
United was heading into the match thinking it was an easy win but the unpredictable times have taught us to expect the unexpected. This is Maguire's second season with United and the Defender has improved his form in the previous season on average he blocked .16 scoring attempt in 38 appearances this season in just 24 appearances he has blocked .29 times per match while his interception and total clearance number show a downward trend but his accuracy sees a significant jump from .21 average shot on target per match last season, this season the number is .42.
The analysis is drawn from Data Sports Group's repository, get in touch for more such insightful analysis.