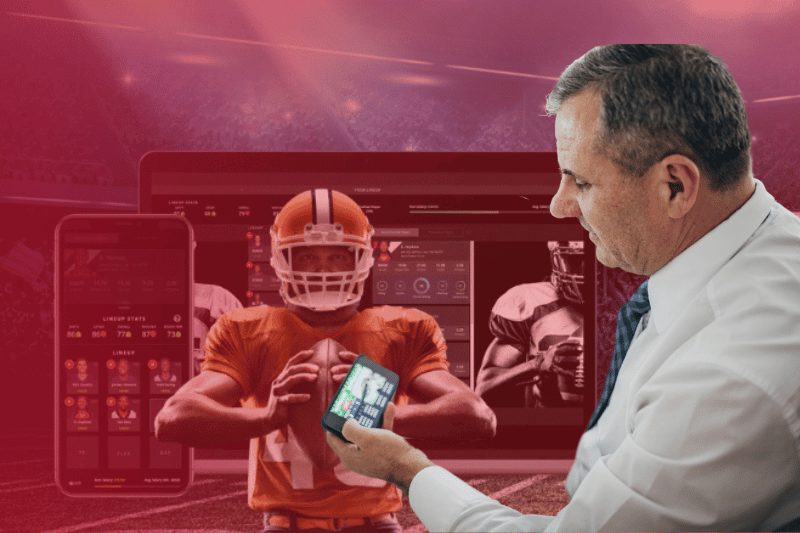 Sports betting is one of the hot topics in the media right now. The long-standing taboo against gambling swiftly vanished from American culture, creating the conditions for the vast, multibillion-dollar legal sports betting market. The US sports betting market is still unexplored with ultimate potential as many would know that, not all the states have legalized its status! But with more than half of the country kicking off with the legalization process for sports betting. It seems like it is only a matter of time.
It's hard to believe that just Nevada had legalized sportsbooks only a few years ago when over 36 states currently provide some type of legal US sports betting sites. Of the 36 states, only three states are in the process of launching their programs while others already have existing setups.
How did it all come to be?
On May 2018, the Supreme Court decided that states could authorize sports betting under their own conditions. While a few states are presently considering whether to join in themselves, more sports enthusiasts than ever before from all over the country can now wager on sports in the U.S. In fact, the repeal of PASPA represents the turning point in American sports betting history because it made it possible for a remarkable, mostly unregulated sector to get its due limelight and function more consciously within rules and regulations.
But know this if you are planning to be a betting operator in the US, sports betting can become unlawful after you cross state lines because each state is allowed to set its own rules and regulations. States that solely permit in-person wagering exist, but there are also those that permit mobile sports betting. While some states permit betting on all sports, others might forbid it for minor leagues and colleges. It can be quite difficult to recall which states allow legal sports betting and what that involves because so many states make up their own laws. Thus before proceeding with setting up your own betting platform you need to be aware of the state-by-state laws regarding sports betting in the USA.
Tracking the legal changes state by stage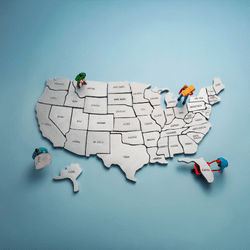 On May 14, 2018, after PASPA was declared obsolete, six months later, seven additional states launched their sports betting markets to complement Nevada's already established one. The first wave of states to legalize sports betting in history included Delaware, New Jersey, Mississippi, West Virginia, Pennsylvania, Rhode Island, and New Mexico.
The second wave of sports betting legislation was introduced during the first half of 2019. At least one sports betting bill was presented in a legislative chamber in more than two dozen states, and several of those states ended up enacting legislation. Thereafter the number of sports betting states increased further with the addition of North Carolina, Tennessee, Illinois, Indiana, Montana, Iowa, and New Hampshire. Later many more states followed suit to bring that number to 36.
What is the financial impact of legalization?
The states that permitted legal betting has seen financial benefits from it already. According to the American Gaming Association, Americans legally wagered $73 billion on sports in the first 10 months of 2022, an increase of 70% from the same period last year. Sports betting businesses made $5.77 billion off of those bets, a 78% increase from the previous year, while states and the federal government likely made $1.3 billion.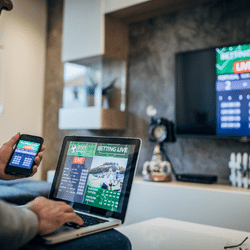 New York, which began its mobile sports betting market last year, is already at the top in sports betting revenue with $1.07 billion from January through October. While Illinois and New Jersey followed with $616 million and $595 million.
Casey Clark, a senior vice president at the American Gaming Association (AGA) even shared that last year was a record-breaking year for the gaming industry, and certainly, the continued expansion and adoption of and maturation of legal sports betting across the country contributed to that.
What can we expect in the future?
As existing state markets mature and new ones are introduced, Clark anticipates that 2023 will be another year of records. He predicts that the USA will see [legislative] movement in probably nine or ten more states. Thus the number of sports betting in USA legal states will continue to increase from the current, 36.
The three largest states—California, Florida, and Texas—have not yet permitted sports betting but lobbyist and multiple bills have been raised as the fight for Sports betting's legal status continues. Additionally, four other states- Kentucky, Minnesota, Missouri, and North Carolina will probably amend their laws this year as well.
It is simply astounding how quickly sports betting is becoming popular, as evidenced by the number of states that have already changed their laws to allow sports betting. After decades of being pushed to the periphery of society, sports betting is now reclaiming its place at the center. And it has thus created an opportunity for betting operators and sportsbooks to enter the market creating more vibrant local economies, more jobs, and employment opportunities as well. Partner with Sports Data Providers like Data Sports Group and get individualized solutions for all your betting needs. Remember! A trustworthy betting data provider can help.